The Emirate Slot: Check Out This Slot With a 96% RTP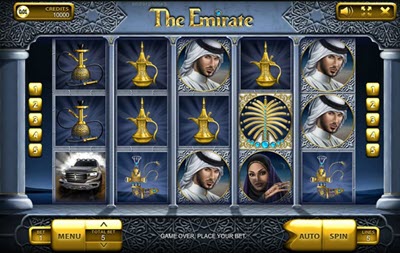 The Emirate Slot is one of the most popular games by Endorphina with a Return to Players of 96%. Check out our guide which includes its key statistics, entire features, and more.
DETAILS OF THE EMIRATE SLOT GAME
The Software Provider is endorphina. The game was released in July 2014.
The Return-to-player (RTP) is 96.00 percent.
The Volatility is Low.
The game has 10 paylines and 5 reels.
The coin value is 0.01 – 0.10.
There are wild and scatter symbols available.
The maximum win is bet times 5000. The Mobile Version supports all devices.
The Emirate is a game by Endorphina that is inspired by the unique country of the United Arab Emirates. To help players immerse themselves in the game, it has extremely detailed graphics and Scatters symbols.
The slot was released in 2014 and is one of the developer's more basic slots, with essentially no features at all. The superb graphics on the 5-reel, 3-row playing field, which are sharp and highly detailed, help to compensate for this. I also liked how they were all unique and related to the game's concept.
There's no significant background to speak of, except for what appears to be a window in a massive building, which is not very distinct and provides no more interaction. Although the slot has 5 paylines, which is a little number for a slot of this size, the game nevertheless has a Low Volatility rating. When a victory occurs, a brief animation appears to give the game some movement; however, these animations aren't extremely detailed and barely last a second to keep the slot running at a regular rate.
The Emirate, unlike other Endorphina slots, has a soundtrack that plays throughout the game. It's a fresh perspective on traditional Arab music. The sound effects, on the other hand, are a mixed bag. Some of them are unique and fit the theme, while others are generic sounds found in previous games by this company.
Symbols
The Emirate can not utilize too many symbols because of its moderate volatility and only 5 paylines, and this is right. The game features a small number of unique, creative symbols, all of which are tailored to the scene.
Among the emblems are:
Flower (Scatter): Maximum 50 times your bet with five-of-a-kind on the screen.
Waterpipe: Maximum 40 times your bet with five-of-a-kind on a winning payline.
City: Maximum 1,000 times your bet with five-of-a-kind on a winning payline.
Teapot: Maximum 40 times your bet with five-of-a-kind on a winning payline.
Man: Maximum 100 times your bet with five-of-a-kind on a winning payline.
Woman: Maximum 100 times your bet with five-of-a-kind on a winning payline.
Dagger: Maximum 40 times your bet with five-of-a-kind on a winning payline.
Truck: Maximum 40 times your bet with five-of-a-kind on a winning payline.
Even with only a few symbols, getting a win proved difficult, which is why the bet awards are so big. With a three-of-a-kind victory, even the lowest paying symbol pays out more than a single spin. This means that any win will pay out enough to cover at least the cost of the spin.
Features
The Emirate is a slot with a minimal amount of attributes that make it stand out. Even though most Endorphina games do not have many features, they usually have two or three. There is only one Emirate:
Scatter: Regardless of where it appears on the screen, the Scatter Symbol contributes to a victory.
In my experience, this element emerged frequently and resulted in a significant number of wins. Overall, I found the game to be fairly good at awarding victories, though the majority of them were little. My funds either went well above or far below my beginning line, giving the impression that the game was a little more unpredictable than it appears.
Because of the minimal features, the game felt a little dull, and it was not made a big deal when the Scatter symbols showed on the screen. The symbols simply lit up for a little moment before the game resumed as usual.
Overall, The Emirate appears to be lacking in features, and it is best suited to those who prefer their slots to focus solely on the basic gameplay. I am sure some people prefer this type of game, but I doubt there will be many.
Final Thoughts
When compared to other Endorphina slots, The Emirate is an odd duckling. Because of the low volatility and the limited number of features, it is only suitable for casual gamers. At the same time, it provides a maximum win of 5,000 times your wager, with a bet range of 0.05 EUR to 50 EUR for each spin.
On the other hand, when compared to other slots released around the same time, the game has some of the best graphics, and there is a lot more attention paid to the appearance and environment. This would indicate that the developers intended to attract a large crowd.
At the end of the day, the game is stuck in the middle. It looks nice and works well, but it only provides the most basic gaming experience. I don't think high rollers or modern gamers would appreciate The Emirate, thus it'll only appeal to beginners or casual players. It's a shame because visually it's undoubtedly one of the better slots in my opinion.
Features
Scatter symbols: Get free spins and/or cash prizes by collecting scatter symbols.
Volatility: This slot has a consistent stream of modest and medium wins, despite its low volatility.
Maximum win: The maximum win of The Emirate is 5000 times your bet.
Maximum bet: Perfect for high rolling slot players. Bet up to 50 EUR per spin!
Mobile version: This slot runs smoothly on any mobile device.