Satoshi's Secret Slot: Here is Everything You Should Know
=>Play on Satoshis Secret Slot
Satoshi's Secret slot is a slot machine that's powered by Endorphina and you don't want to miss what it has to offer. The excellent thing is that it's themed around the BTC phenomenon, which makes it suitable for Bitcoin enthusiasts.
Satoshi's Secret slot machine has been created as one that's inspired by the Bitcoin phenomenon.
Satoshi's Secret is a Bitcoin-themed slot machine named after its creator. The cryptocurrency is supposed to have been invented by an unidentified programmer known as Satoshi Nakamoto. Nobody knows who he is, or if he is not truly a group of programmers operating under this alias. Endorphina chose a design that is frequently used in hacker games, with green code on a black background or electronic circuits that use the same color scheme. Symbols include letters that spell out QWERTY, currency symbols for the GBP, USD, and EUR, and items such as locks, Wild logos, and hackers wearing hoodies over their heads.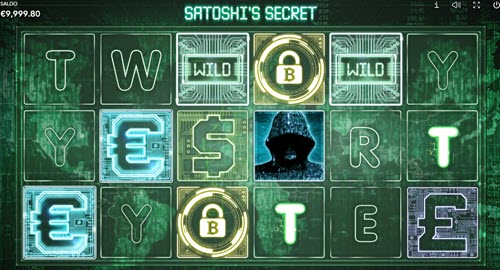 Satoshi's Secret gives up to 20 active lines, spinning 6 wheels each time you put a bet. The ultimate prize, according to reports, will be worth 50,000 USD. The Trading Bonus, scatter symbols, and wilds are all included in the game's features.
Satoshi's Secret allows you to place stakes ranging from 0.01 USD to 200 USD, which is a great range to have. The bets can be placed on up to 20 lines, each with a stake of up to 10 USD. A line bet can contain anything from one to ten coins, with individual amounts ranging from one to ten dollars.
The wild symbol appears in the game, but solely as a substitution, not as a standalone payout trigger. It can be used to substitute most symbols in the game, but it does not affect the scatter or the symbol that pays the highest prize.
The Trading Bonus is a feature that appears when four bonus symbols, the ones with the Bitcoin Lock, appear on the screen. These rare symbols will only appear on the middle four reels. The feature begins with a prize of 30 times your total bet, which you will get. Then you will be given a 3 by 3 slot game for you to play in, with a feature that simulates cash trades by changing the currency values in the game. In this feature, you'll be using the 30 times prize, so if you do not want to risk it, take it and go on.
When the letters of the word QWERTY appear on the six reels, another feature is activated. The next feature is a password hacking feature.
Right now, Satoshi's Secret is the only game with a crypto currency premise, and it does a decent job of converting the idea into a slot machine.