Legend of the High Seas Slot Review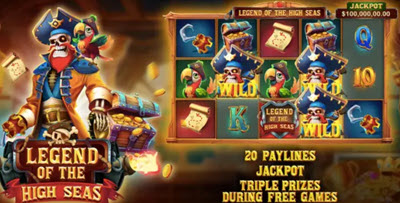 => Play on Legend of the High Seas Slot
The Legend of the High Seas online slot offers an immersive pirate-themed gaming experience, complete with the allure of a Progressive Jackpot and a round of Free Spins. This slot game sets sail with 5 reels and 20 pay lines, providing ample opportunities for players to win big.
One of the most enticing aspects of this slot is its potential for substantial rewards. The highest win achievable is an impressive 50,000 times the initial stake, making it a treasure trove of a prize that every adventurous player will be eager to pursue.
If you're captivated by the pirate theme and seek more swashbuckling adventures, you might also want to explore the Pirate Isle release from Real Time Gaming. It promises a similar thrill with its high-seas antics and the potential for bountiful rewards.
The betting range for Legend of the High Seas is flexible, ranging from $0.2 to $5 per spin, with coin bets spanning from 0.01 to 0.3. While the slot lacks a Wild Symbol or a Bonus Game, it compensates with Scatter Symbols that can unlock Free Spins, adding an extra layer of excitement to the gameplay.
With a high volatility level, this slot is designed to deliver thrilling and unpredictable gaming sessions. Additionally, it boasts a Progressive Jackpot that can grow substantially over time, offering players the promise of hitting the jackpot and securing their place as legendary pirates of the online casino seas.