Megasaur Slot Review – online (RTG) slots play for real money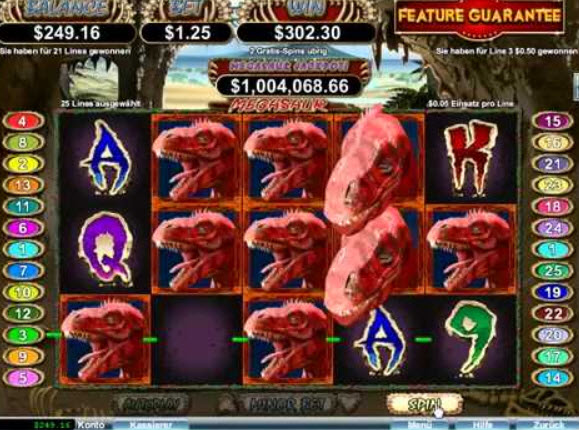 This game is one that reignites all childhood memories of dinosaurs, it features the most dangerous and sought after dinosaur; Megasaur.
This game comes with awesome graphics and its slot reels are dotted with Diplodocus, Velociraptors, Pterodactyls, Triceratops and Stegosaurus. These killer creatures are brought to life in mind-blowing computer graphics where they roar and snap at your screen. When you unlock a feature, they eat up some other dinosaurs and players get to collect different prizes coming from the erupting volcanoes. It doesn't end there; you also get to watch pterodactyls flying by the moonlight.
While it is possible to play this game without earning any profit whatsoever, your effort is not wasted eventually as you also get to relish your childhood memories. Realtime Gaming has done a great job of making these creatures appear like you are seeing them in real life. However, it won't leave you with any injuries. Instead, you leave with your huge wins depending on how lucky you get with the game.
Navigating Through the Layout
The next best feature of this game after its mind-blowing graphics is its ability to be learnt with such great ease. It is played on a 5×3 grid in addition to 25 paylines which blows your mind away with the dinosaurs raving on your screen. This takes your mind away from trying to figure out how the game is being played.
A green Megasaur pops up on the second reel while a red Megasaur shows up on the fourth reel. When either of these dinosaurs are used on your winning line, it instantly doubles your prizes. Once this is achieved, it has them roaring ferociously sending you back into your chair.
Megasaurs might as well be the most fun of all icons present on this game; however, the volcanoes are really worth igniting.
The Megasaur feature is activated by the appearance of three volcanoes which guarantees you with 250 spins. Here, you are able to choose between any one and three of these volcanoes and have them erupt in form of prizes. Also in this feature, these beasts snap away at every single spin of the reels and they multiply your prizes in the process.
Once you match five of these volcanoes during the Megasaur feature, you get to win a progressive jackpot that can be as much as seven digits.
Take Your Dinosaurs with You
One thing about the Megasaur Slot is its ability to keep players addicted. Once you begin playing this game, you will most likely find it very difficult to get off your seat. However, this shouldn't hinder you from getting everything you have planned done.
This is made even easier as it can also be played on your mobile devices and tablets as well. Not to worry, playing the Megasaur Slot on your mobile devices does not in any way reduce the quality of the game. What this means is you get to take the fun with you anywhere you go and whenever you desire.