Dragon Rising Game: Why Is It So Popular?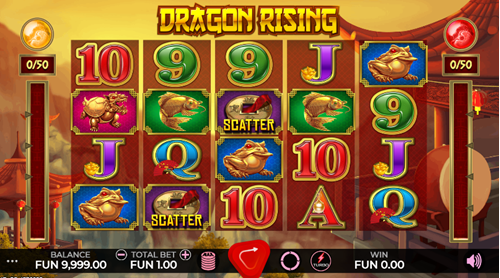 According to Chinese legends, The Dragon is said to be the strongest, most mighty, powerful, and intelligent creature. They are said to provide sound advice and come in various shapes and sizes. The Chinese hold this mythological creature in high regard and assume it can assist in times of need. Caleta allows you to meet the Dragon and earn some fantastic prizes! Dragon Rising is a potent slot machine that features Scatter Pays and Free Spins. So, take a once-in-a-lifetime trip to ancient China to see the magnificent temples, intriguing nature, and beautiful golden dragons with a Caleta video slot. This is Dragon Rising!
Basic game information
The name of the game is Dragon Rising. The game type is Slot 5×4, it has 5 reels and 50 lines. The Return to Player (RTP) is 95.69 percent.
The game can be played on Mobile and the resolution is 16:9.
The languages supported are Portuguese, Thai, Vietnamese, Spanish, Turkish, German, English, Russian, Chinese 中文简体, Korean, Chinese 中文繁體, and Japanese. It is compatible with Desktop, Android, and iOS devices. It works on most browsers like Safari, Edge, Chrome, and Firefox. The game features are free spins, scatter pays and free spin retrigger.