Spinomenal's Dark Reels Slot: A Must-Play for Slot Enthusiasts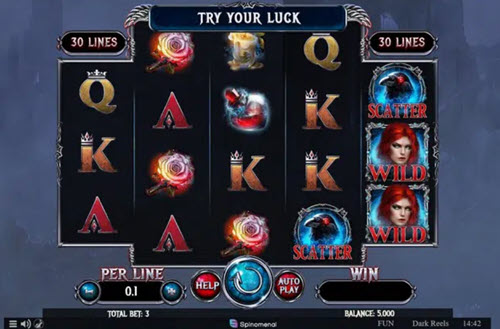 In the vast realm of online slots, where dragons breathe fire, and mermaids sing their siren songs, there emerges a game that beckons the brave-hearted. Enter "Dark Reels" by Spinomenal, a game that might just have you checking under your bed before you sleep. But don't be fooled by its eerie aura; this game promises not just chills but also some thrilling wins. If you're ready to embark on a spine-tingling journey with the potential for big rewards, read on!
A Glimpse into the Mysterious Theme
Imagine a castle—not the Disney kind, but one shrouded in an impenetrable mist, hiding secrets of centuries past. That's the backdrop of "Dark Reels." The visuals are so hauntingly beautiful that you might just forget you're playing a slot game. And the audio? Oh, it's like Dracula decided to throw a ball, and you're on his guest list. The symbols, ranging from mystical elixirs and flickering candles to pristine white roses and the classic A, K, and Q royals, add to the enigmatic allure of the game.
Key Symbols to Watch Out For
Now, every spooky tale has its protagonists. In "Dark Reels," the redheaded woman takes center stage as the wild symbol. With her fiery hair and piercing gaze, she's not just a pretty face. She can step in for any other symbol, boosting your chances of a win. But wait, there's more! The Scatter Symbol, shaped like a raven, is the harbinger of good fortune. This bird doesn't just caw; it can lead to some impressive payouts. So, keep an eye out for these two; they might just be your ticket to the jackpot.
Betting Range and Winning Potential
"Dark Reels" is not just for the high-rollers or the penny pinchers; it's for everyone. With a reel formation that's as unique as its theme (a 3-4-4-4-3 formation, to be precise) and 30 pay lines, the game offers a betting range that starts from a mere 0.30 credits and can go up to a whopping 300.00 credits per spin. Whether you're feeling a bit frugal or ready to break the bank, this game has got you covered. And the cherry on top? Players have the chance to win up to 1,000 times their stake. Now, that's a treat!
Special Features and Gameplay
While "Dark Reels" might send shivers down your spine with its theme, its gameplay is straightforward. The Wild Symbol, our enigmatic redheaded woman, is a force to be reckoned with. She can appear on all reels, replacing other symbols to form winning combinations. And if you're lucky enough to get five of hers on your screen, brace yourself for a hefty payout. The Raven, our scatter symbol, is equally generous. Land three or more, and you're in for a win, no matter where they appear.
Final Thoughts on Dark Reels
In a world teeming with slot games that often blur into one another, "Dark Reels" stands out, not just for its haunting theme but also for its user-friendly gameplay. It might not have the bells and whistles of some modern slots, but it offers a unique experience that's both chilling and thrilling. If you're in the mood for a game that's easy to play but hard to forget, "Dark Reels" might just be your perfect match. So, are you ready to face the mysteries of the dark and, perhaps, walk away with a jackpot?