Crypto Boss Casino Review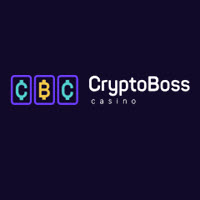 100% up to 100 EUR + 50 FS
Crypto Boss Casino
License: Curacao
Restricted Countries: United States of America, Great Britain, Spain, France and its overseas territories (Guadeloupe, Martinique, French Guiana, Réunion, Mayotte, St. Maarten, French Polynesia, Wallis andFutuna, New Caledonia), the Netherlands, the Dutch West Indies, Curaçao, Gibraltar, Jersey.
Banking: Visa, Mastercard, PIASTRIX RUB, Bitcoin, Ethereum, USDT, Litecoin
---
In recent years, the online casino industry has witnessed a transformative shift with the integration of cryptocurrency. CryptoBoss Casino stands as a testament to this evolution, offering players a unique blend of traditional gaming with the modern twist of cryptocurrency transactions. As a relatively new entrant in the online casino landscape, CryptoBoss has quickly garnered attention for its fresh approach to gaming. While it's still early days for this platform, the buzz surrounding it is undeniable. Players are drawn to its vast array of games, all of which are seamlessly integrated with crypto functionalities.
Moreover, the casino's commitment to security ensures that players can enjoy their gaming experience with peace of mind, knowing their stakes are safeguarded. However, like any new venture, potential players need to approach it with caution and stay informed. The world of crypto gaming is vast and ever-evolving, and CryptoBoss Casino is at the forefront of this exciting journey, promising a blend of entertainment, innovation, and potential rewards. As the casino continues to grow and establish its reputation, it's clear that it's set to play a significant role in shaping the future of online gaming.
The Crypto Gaming Experience at CryptoBoss
The world of online gaming has witnessed a significant transformation with the integration of cryptocurrencies, and CryptoBoss Casino stands as a testament to this evolution. As the popularity of crypto-friendly casinos surged after the crypto boom in 2020, platforms like CryptoBoss Casino emerged, offering players a unique blend of traditional gaming with the advantages of cryptocurrency transactions.
CryptoBoss Casino, in particular, has prioritized delivering an unparalleled gaming experience to its users. Their vast selection of games caters to a wide array of preferences, from the latest trending games to the timeless classics. Players can delve into a diverse range of categories, including slots, table games, and immersive live dealer games. For slot enthusiasts, the casino offers a plethora of choices, with games like Razor Shark, Pumpkin Smash, and Luxor Gold: Hold & Win, among others, taking the spotlight. Those who prefer the thrill of table games can indulge in classics like dice, blackjack, and baccarat. What sets CryptoBoss apart is the live casino sector, where players can engage with skilled casino operators in a virtual environment that mimics the ambiance of a real casino.
Furthermore, the operator ensures that the gaming experience is complemented by generous bonuses and promotions. New players are often greeted with attractive welcome packages, allowing them to amplify their stakes and potentially secure bigger winnings. However, players need to be aware of the associated requirements and ensure they make the most of these incentives.
In essence, CryptoBoss Casino encapsulates the future of online gaming, where the fusion of cryptocurrency and traditional gaming elements offers players an experience like no other. Whether you're a seasoned gamer or a newbie, the platform promises an adventure that's both rewarding and exhilarating.
Security and Trustworthiness
With online casinos, especially those dealing with cryptocurrencies, security and trustworthiness hold paramount importance. CryptoBoss Casino understands this significance and has implemented robust security measures to ensure the safety and privacy of its players. The casino employs cutting-edge encryption technology to safeguard players' sensitive data, ensuring that personal and financial information remains secure from unauthorized access. This commitment to security extends to the transactions carried out on the platform, which are protected by advanced cryptographic techniques, offering players peace of mind as they engage in the gaming experience.
Beyond the technical aspects, CryptoBoss Casino has established itself as a trustworthy platform in the crypto-gaming world. The casino operates with transparency, providing clear and accessible information about its operations, policies, and terms of service. Players can easily find detailed information about the casino's license and regulatory compliance, reinforcing the legitimacy and reliability of the platform. This openness builds a foundation of trust between the casino and its players, fostering a secure and enjoyable gaming environment.
The casino's dedication to providing a secure and trustworthy platform is further evidenced by its commitment to responsible gaming. CryptoBoss Casino offers various tools and resources to support players in maintaining control over their gaming activities preventing problematic gambling behavior. This holistic approach to security and trustworthiness underscores CryptoBoss Casino's reputation as a reliable and safe platform for crypto gaming enthusiasts, allowing players to explore the world of crypto gaming with confidence and assurance.
Bonuses and Promotions
Bonuses and promotions are often the highlights that attract players to an online casino, and CryptoBoss Casino is no exception. Offering a generous welcome package, CryptoBoss ensures that new players feel valued right from the start. Upon making their first deposit, new customers have the opportunity to claim a 100% bonus, which can go up to 10,000 RUB or its equivalent in other currencies. This means that if a player deposits an amount, the casino matches it, effectively doubling the player's initial gaming funds.
But the allure doesn't stop there. While the specifics of subsequent bonuses aren't detailed here, it's common for casinos like CryptoBoss to have multi-tiered bonus structures. This means that players can expect additional bonuses on their subsequent deposits, further enhancing their gaming experience. Such tiered systems not only reward players for their loyalty but also encourage them to explore the vast array of games the casino has to offer.
In addition to deposit bonuses, it's also typical for casinos to offer other promotions, such as free spins on popular slot games, cashback offers, and even tournaments with significant prize pools. These promotions not only add an extra layer of excitement but also provide players with more opportunities to win. It's always advisable for players to regularly check the promotions page of the casino or subscribe to their newsletters to stay updated on the latest offers and maximize their gaming experience.
Payment Methods and Withdrawals
Navigating the world of online casinos, one of the most crucial aspects for players is the ease and security of financial transactions. CryptoBoss Casino, being a crypto-focused platform, offers a seamless experience when it comes to depositing and withdrawing funds.
Cryptocurrencies have revolutionized the online gaming industry by providing faster, more secure, and more private transaction methods. At CryptoBoss Casino, players can utilize a variety of cryptocurrencies for their transactions. Popular options include Bitcoin, Ethereum, Litecoin, and Tether. These digital currencies ensure instant transfers, allowing players to dive into their favorite games without delay. Moreover, the decentralized nature of cryptocurrencies means that players can maintain a higher degree of anonymity compared to traditional payment methods.
In addition to cryptocurrencies, CryptoBoss Casino also caters to players who prefer more conventional payment methods. Options such as Visa are available, ensuring that every player, regardless of their payment preference, finds a suitable method. The minimum deposit and withdrawal amounts are set at a user-friendly threshold of $/€10, making the platform accessible to both high rollers and casual gamers.
One of the standout features of CryptoBoss Casino is the speed of its withdrawals. Once approved, players can expect instant withdrawals, which is a significant advantage over many other online casinos that often have prolonged waiting periods. This quick turnaround time, combined with the security of cryptocurrency transactions, positions CryptoBoss Casino as a top choice for players prioritizing efficient and secure financial transactions.
Customer Support and Assistance
CryptoBoss Casino understands the importance of providing timely and efficient assistance to its players. To ensure that every player's experience is smooth and hassle-free, they have established a robust customer support system. Players can easily reach out to the dedicated support team through various channels, including email, live chat, and phone. This multi-channel approach ensures that players can choose the medium they are most comfortable with and receive prompt responses to their queries.
The live chat feature, in particular, has been lauded for its quick response times and the professionalism of the support agents. Whether you have a question about game mechanics, payment methods, or any technical glitches, the live chat is often the fastest way to get a resolution. For those who prefer a more traditional approach, email support provides detailed responses, especially for more complex issues. And for those who appreciate a direct conversation, the phone support offers a personal touch, ensuring that players feel heard and valued.
In addition to these direct communication channels, CryptoBoss Casino has also invested in creating a comprehensive FAQ section on its website. This section addresses common questions and provides step-by-step guides, allowing players to find answers independently. Overall, the emphasis CryptoBoss Casino places on customer support showcases its commitment to offering a top-notch gaming experience for all its players.
Mobile Gaming and User Experience
The world of mobile gaming has seen a significant transformation with the integration of cryptocurrencies. As the digital age progresses, traditional brick-and-mortar casinos are being overshadowed by the convenience and accessibility of mobile crypto casinos. These platforms allow players to indulge in their favorite casino games from the comfort of their homes or on the go using their mobile devices.
Mobile crypto casinos have become the latest trend in the online gambling industry. With the rise of cryptocurrencies like Bitcoin, Ethereum, Dogecoin, and Litecoin, among others, players can now wager and transact using these digital assets. This not only ensures faster transactions but also adds an extra layer of security, given the decentralized nature of cryptocurrencies. Players can make deposits, play games, and withdraw their winnings, all in their preferred cryptocurrency.
One of the significant advantages of mobile crypto casinos is the flexibility they offer. Players can access these platforms in two primary ways. The first is through dedicated mobile applications provided by some casinos. These apps are optimized to offer the best user experience, ensuring smooth gameplay and easy navigation. On the other hand, a more popular approach is accessing casinos via web browsers. Thanks to advancements in technology, especially HTML5, most crypto casinos are optimized to run seamlessly on mobile browsers, be it Android or iOS. This eliminates the need to download any additional software, making the process more straightforward and user-friendly.
However, as with any online platform, it's essential to ensure the safety and legitimacy of the mobile crypto casino you choose. While many platforms offer a secure gaming environment, especially with SSL encryption, it's always a good practice to check the casino's credentials and ensure it's registered with a recognized authority. This not only guarantees a safe gaming experience but also ensures fair play.
Mobile crypto casinos are revolutionizing the online gambling industry. They offer a unique blend of traditional casino gaming with the benefits of cryptocurrency transactions. With the continuous advancements in technology and the growing popularity of cryptocurrencies, it's evident that mobile crypto casinos are here to stay. Players can look forward to more innovative features, a broader range of games, and an even more enhanced gaming experience in the future.
Final Thoughts
After a comprehensive review of CryptoBoss Casino, it's evident that this platform is making significant strides in the world of crypto gaming. Offering a diverse range of games tailored to the preferences of cryptocurrency enthusiasts, it provides an immersive experience that's hard to match. The bonuses and promotions, particularly the enticing welcome bonus, further enhance the appeal of this casino, making it a top choice for both new and seasoned players.
Security remains paramount in the online gaming world, and CryptoBoss Casino doesn't disappoint. With robust measures in place, players can rest assured that their digital assets and personal information are in safe hands. The seamless transaction process, supported by various cryptocurrencies, ensures that deposits and withdrawals are hassle-free.
Lastly, the emphasis on customer support and the mobile gaming experience underscores CryptoBoss Casino's commitment to user satisfaction. The platform's dedication to offering a top-notch user experience, combined with its innovative approach to crypto gaming, positions it as a frontrunner in the industry. For those looking to dive into the world of crypto casinos, CryptoBoss stands out as a reliable and exciting choice.