Naughty or Nice Slot Review (RTG) Slots free to play
Have you been naughty or nice? RealTime Gaming brings you an unconventional Christmas themed games with Naughty and Nice. You have skimpily clad girls and amazing rewards. There perfect combination.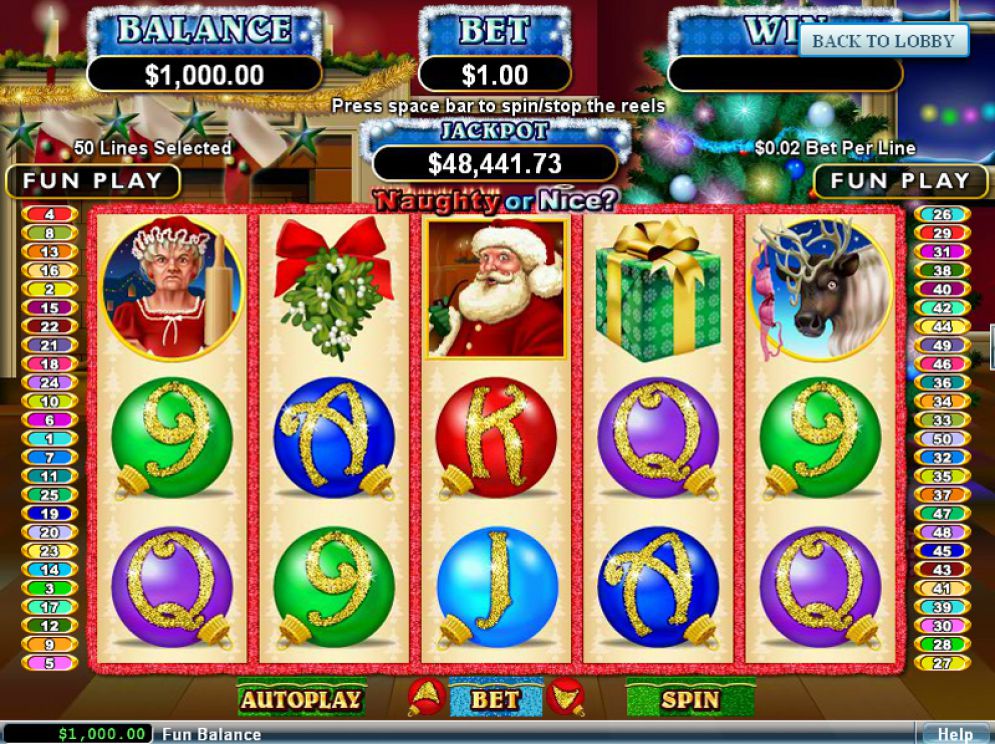 Play on Naughty or Nice Slot Now!
Naughty or Nice is a slot game with fifty paylines on five reels. This one offers a progressive jackpot, gives you bonus rounds, two wilds, Scatters and high value symbols.
Your bet could go from $0.50 to $250 per game. You have to play with all the fifty lines. So your bet is based on your total bet and not what you bet per line.
The wilds in this game are the Naughty and the Nice girl. The Naughty girl is dressed in green and the Nice girl is dressed in blue. They can appear on each of the reels and will replace every Symbol to form winning combos. The only exceptions are the Scatters.
A progressive jackpot can be triggered by the Nice Girl. This happens when she blows her kisses on all the give reels on one line.
You could also get this jackpoy if the Naughty Girl, the Nice Girl or both of them fill a payline during the bonus feature.
The Naughty or Nice logo symbol, a wreath basically is the scatter. It is more than than the Wilds. But it gives you payouts. For feature winnings, you get 20x you total bet from the Scatter. Five Scatters on a row give you 200x.
The bonus feature in this game is activated when you see more than two Scatters on the reels. You also get free spins during this round. The number if spins is ten. But before you can use them, you have choose who your "Wild in Scantily Armor" will be, the Naughty Wild or the Nice Wild.
If any of the girls chosen is part of a winning combo, she doubles all thw prizes. And every time that she appears during this feature, she gives you an extra bonus.
You could have an additional free spin, a cash prize that would give you 20x your stake or one of the wild Girls will stay where she is for the next free spin, in hopes that she could be part of another winning combo. You cannot reactivate this feature.
Just like a lot of other slots from RealTime Gaming, you can choose to speed up play by stopping the reels whenever you want to.
Just remember that, just like with random number generators, a reel stopping mid spin will not change the outcome. But you will feel like you have lost control.
The symbol that gives you the most payouts is Santa. This is probably because his bag is big enough to carry the 10,000 coin Jackpot around.
You will see Mrs Claus with a rolling pin and she will try to get santa to behave. If she appears five times on one payline, she will give you up to 2,500 coins.
The Reindeer are also part of this action. If five of them appear on a payline, they will give you 1,000 coins. So as you play, you might need just two of these symbols to make substantial winnings.